Katlin Malm
Estonia
"Simple mind equals simple life"
COLOR REALISM
Tattoo Styles
Color Realism
Home Base
Tallinn, Estonia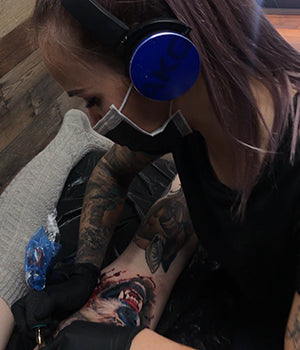 Contact Artist
Kätlin loves being a tattoo artist. The best part in her eyes is the lack of routine: there are new opportunities, and new people to meet and tattoo every day. She loves when her clients trust her completely as an artist. It makes her feel like the sky's the limit when it comes to designing the tattoos. Kätlin loves working on bigger projects, because the client becomes like a part of the Studio Malm family by spending a lot of time together. There's never a dull moment at her and her husband's tattoo shop Studio Malm.

Kätlin loves working as tattoo artist because it doesn't feel like work. She feels relaxed and happy at the studio that she and her husband Torsten Malm built from the very ground up, because the vibe is carefree and cozy.